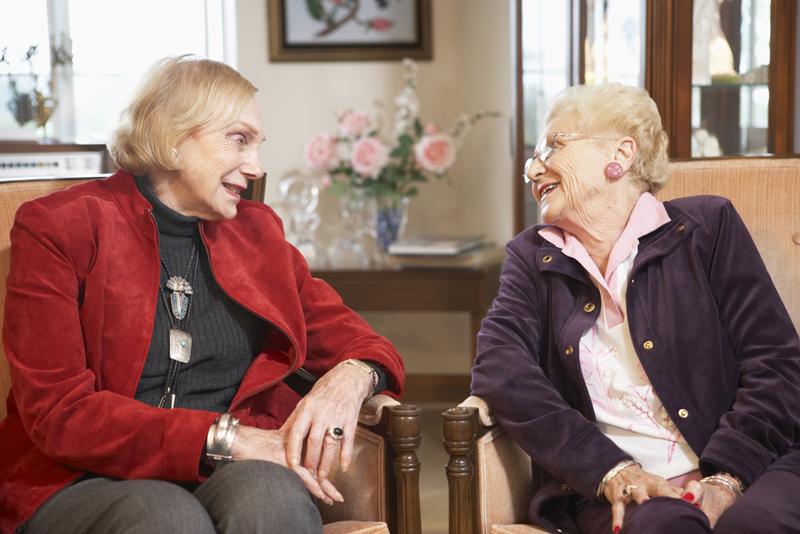 By Bradley Yee
Have you recently experienced this scenario –  your elderly loved one is repeating stories over and over.  What does this trigger in you?
Frustration?  Do you attempt to slowly excuse yourself, by trying to slip away from your elderly loved one when the story line is rolling, to preserve your sanity? Do you get so irritated that you have rehearsed in your mind just how to say "You've told that story a billion times!"
"Why is this repetitious story telling happening?", you ask yourself.  You may be guessing that your elderly loved one is experiencing senility.  Maybe just declining mental faculties.  Author David Solie, author of the book How To Say It® to Seniors: Closing the Communication Gap with Our Elders says that the reason for the repetition may not lie in declining mental faculties.  He asserts that "…there may be a reason for the repetition that has nothing to do with mental decline…that repeating that story (is) part of…life-review process."¹
It is sorting process. Elders are lining up their values.  They are including these values in their stories because they admire and appreciate these values.  It is important to them that they appreciate these values.  When your elderly loved one reminisces about and revisits these values in the stories they often repeat, it helps them sort the values for their own life review.  It forms the building blocks for their legacy. ²
Everyone leaves a legacy
Merriam-Webster offers two definitions of legacy.  The first definition of legacy is: Bequest.  A gift by will especially of money or other personal property.  Merriam-Webster's second definition is the heart of what we are talking about here.  It's the part of legacy that will normally last far after any gift of money or personal property.  Here's that second definition: Something transmitted by or received from an ancestor or predecessor or from the past.  This is where uncovering your elderly loved one's values come into play.  Their legacy can mightily influence the current generation, and future generations.
Author David Solie explains that we can help elders determine how they will be remembered by taking on the role of a legacy coach.  We start by gaining their trust. It is a process.  It involves patience, active listening, using compassion, and delving deeper to discover components of the elder's stories to reveal a very personal side of them.  Solie writes that "When this process begins, we need to listen for the values seniors express in almost every conversation.  Those values provide the keys to their unfolding legacy."³
Practical steps
At an appropriate interval of the oft-repeated story, try interjecting by sharing a comment or reaction, or better yet, asking your elderly loved one meaningful questions.  Asking meaningful questions serves to bring them into dialogue. It acts like a reset button.  Like a reality check.  Your elderly loved one now realizes there is an opportunity to converse – which is the core of social interaction. Social interaction is a reciprocal action.  Entering into dialogue increases social interaction.  When a story drags on and on, attaining that goal becomes more of a challenge because as one is doing all of the talking, there is less interaction.
Prepare for these repetition of stories.  Think through appropriate comments, reactions and meaningful questions ahead of time.  Time your comment, reaction or meaningful questions, at an opportune moment, when you hear a value surface in the story.  This helps the elder sort out just what they truly value in their story, and likely the value(s) they want to be remembered for.
The Key: Open-ended questions
Once you have discovered the values that your elderly loved one shares in their oft-repeated stories, it's the open-ended questions that will really uncover what they would want to be remembered by.  Begin slowly and with general questions and then work your way to specific open-ended questions which reveal their values.  Open-ended questions require your loved one to answer with more than just one word answers.  It requires them to reflect.  Ask them to give context to their answers.  Keep the conversation positive, never trying to discount, shame, or disrespect their personal history.  Respect their dignity.  The process will reap huge personal discovery and you'll be able to help them develop their legacy in which many will cherish both now and in years to come.
Help if you need it
Christian Love Home Care is a licensed Home Care Organization, offering non-medical in-home assistance.  Our Home Care Aides would love the opportunity to hear your elderly loved one's oft-told stories.  They are compassionate, patient, and can help your loved one discover their values and therefore form their legacy.  Please contact us if we may be of service to you:  Tel: 805-238-3500 email: bradleyy@christianlovehomecare.com
Sources
Solie, David, M.S., P.A. (2004) How To Say It® to Seniors: Closing the Communication Gap with Our Elders.  New York, NY.  Prentice Hall Press.
Merriam-Webster online dictionary.  Definition of legacy.  Available here: https://www.merriam-webster.com/dictionary/legacy
Footnotes
¹Solie, David, M.S., P.A. (2004) How To Say It® to Seniors: Closing the Communication Gap with Our Elders.  New York, NY.  Prentice Hall Press.  Page 72
²ibid., page 74
³ibid., page 157