By Bradley Yee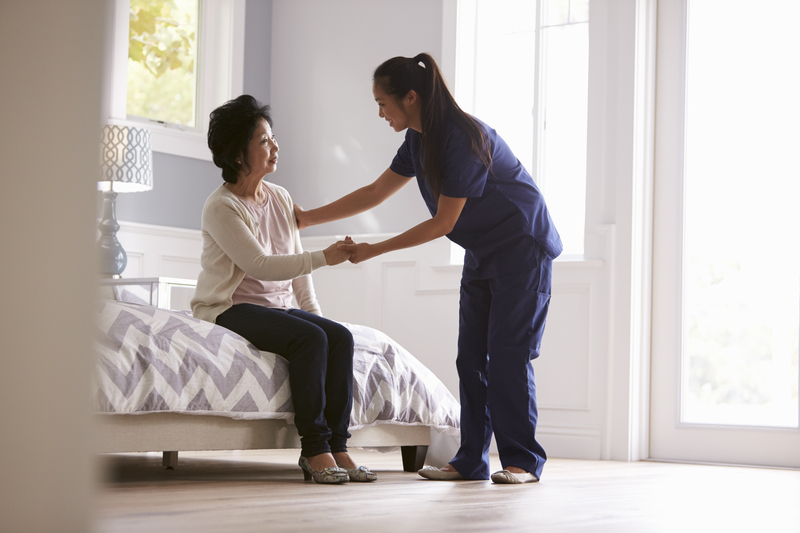 Pauline Boss, PhD, in her book entitled Loving Someone Who Has Dementia: How to Find Hope While Coping with Stress and Grief noted research – reported in Berscheid, "Human's Greatest Strength," 41; H.T. Reis, W.A. Collins, and E. Berscheid, "The Relationship Context of Human Behavior and Development," Psychological Bulletin 126 (2000): 844-872 – that the nine top needs family caregivers have are: affection, caring, reassurance of worth, advice and guidance, proximity (visiting frequently or being physically nearby), coping assistance, nurturance, reliable associations, and tangible assistance.¹
I'd like to briefly discuss three of these nine top needs family caregivers have.
Reassurance of worth
Caregivers of family loved ones may experience an identity crisis.  Especially for the so called Sandwich Generation, who are juggling the needs of career, relationship needs – especially caring for those children of minor ages as well as the elder loved one.  The caregiver may have temporarily or permanently given up their career to care for the family loved one.   Too often, caregivers of family loved ones report that it feels that fulfilling their roles as a caregiver to a family loved one, that the world around them has continued moving forward, and that their connection to the immediate world around them has diminished.  Consider a 2015 AARP report on Caregiving in the United States.  The emotional stress of caring for a family loved one is well documented: "Caring for a close relative, like a spouse or parent (45% and 44%, respectively), is more emotionally stressful for caregivers than caring for another relative (35%) or non-relative (18%). Chronic or long-term conditions among care recipients seem to be particularly likely to cause emotional stress for caregivers, as about one out of every two caregivers of someone with a mental health issue (53%), Alzheimer's or dementia (50%), or a long-term physical condition (45%) report feeling emotional stress."²
Elevating someone's worth may be communicated in many ways.  Spending time with, and looking after the needs of perhaps one of the most fragile members of society is an incredibly honorable undertaking.
Spend time to think of how you can communicate this honor.
Non-verbal communication of looking into their eyes with warmth, and an open stance for an appropriate time speaks volumes to a caregiver's self-identity.
Authors Dr. Gary Smalley and Dr. John Trent wrote the book entitled, The Language of Love.  The essence of the communication tools they promote in the book revolve around how marriage partners can effectively communicate using emotional word pictures.  I feel that the emotional word pictures, if well thought out, can be used by other close associates of the caregiver for a family loved one.  The Family Minute is a daily radio feature that offers everyday advice on marriage, parenting and family relationships.  It is heard on nearly 300 mainstream radio stations in 40 states and globally on American Forces Network.  Here is a link to an article on how to best using emotional word pictures.  Again, while the intent of the author of this article based the communication between husband and wife, I believe that the use of emotional word pictures, especially to reassure a caregiver of a family loved one of their worth is applicable here for associates other than marriage partners, communicating with the caregiver.
Article available here: http://www.familyminute.com/articles/marriage/communication/word-pictures-7-steps-to-creating-word-pictures/#.WFLiZlMrLcs
Proximity (visiting frequently or being physically nearby)
Pauling Boss PhD reports that "…our well-being is tied to our connections with other people who love and support us.  On the other side, however, the lack of close relationships brings unhappiness – and loneliness, which can lead to physical illness."³
Neighbors, family members, work associates, those part of a community interest group or club, religious organization members, and other support groups can help.
Caregivers have shared that having someone come and visit for just have even fifteen minutes of conversation over coffee felt like a mini-vacation from the constant routine and repetitiveness of caregiving.  It motivated them to do their job to the best of their ability.
Think about tangible assistance you can give.  We'll discuss ways to tangibly assist a caregiver shortly.
Pauline Boss points out that some caregivers may be so isolated and that they may lack the time and energy required to maintain relationships that one way of feeling connected is through virtual groups on the Internet with unrelated folks.  Clearly an abundance of caution and safety is needed when participating in these virtual groups; however, the point is that connections are available, and you can assist the caregiver of a family loved one by gently suggesting ways in which connections with others can help ease the load and support them in many ways.
While pointing out what the top needs of a caregiver of a family loved one are, Pauline Boss does something I love.  She points out that what they don't need is this: criticism, judgment, discouragement, ridicule, or isolation.  Recognize that when you go to visit a caregiver of a family loved one, to always reserve judgment of them, and keep criticism far away from the conversation.  Place an emphasis on building them up, and honoring their sacrifice of time and energies for the betterment of the family loved one.  Unsolicited advice can come across as brash and defeating.  Try to not problem solved if not asked to problem solve.  Instead, offer your listening ear.  Or perhaps let them enjoy your silent and reassuring presence.
Tangible assistance
The caregiver for a family member may feel overwhelmed.  They may be simply treading water and surviving not only from week to week or day to day, but instead, moment to moment.  They may be suffering from sleep deprivation.  The bottom line is that they may not have even the time or energy for prioritizing, planning and organizing help which they need.  They may also be thinking that if they receive help, that they may be indebted to reciprocate with help.  Because they are doing all they can to caregiver for the family member, they may not feel like they have any time to give back.  Anticipate push back initially, when you ask how you could tangibly assist them.  Perhaps the caregiver is feeling that if they communicate their need for help that they may be viewed as weak. Be politely assertive.  Comment in a positive way, that you can only imagine the strain they sometimes experience, and that you are ready and willing to help.  Sometimes, when we point out that by (their) receiving, that they are blessing you, the giver.  Said that way, they can come to understand that even in their whirlwind of just trying to make it moment to moment, that they are still giving back to others.
Help the caregiver by being specific with the kind of assistance you can give.  Instead of asking, "If you need anything, please let me know" – perhaps use these questions to pinpoint how you can offer tangible assistance:
"I have an hour three times a week to help you with your family loved one – could you best use help in your home, or could you best use me to run errands for essential shopping?"  If you receive a positive reply, then begin qualifying the days and times and how you could help.  You could be as direct by being specific with the type of tangible assistance by saying, "You know, I love doing dishes.  I'd love to come by during this day/time and do them for you, and after that take a turn watching the family loved one for a half hour while you take a break in another room."
Another way would be to ask some questions about the areas where your caregiver for a family loved one could best use help.  Once those are answered, you can help prioritize areas of need.  A simple tool like a check list could prove helpful as a starting point.
Help if you need it
Christian Love Home Care is a licensed Home Care Organization, offering non-medical in-home assistance.  Our Home Care Aides would love to assist caregivers of family loved ones in many tangible ways.  Please contact us if we may be of service to you:  Tel: 805-238-3500 email: bradleyy@christianlovehomecare.com
Sources
Boss, Pauline PhD (2011) Loving Someone Who Has Dementia: How to Find Hope While Coping with Stress and Grief.  San Francisco, CA  Jossey-Bass A Wiley Imprint
2015 AARP report on Caregiving in the United States.  Available here: http://www.aarp.org/content/dam/aarp/ppi/2015/caregiving-in-the-united-states-2015-report-revised.pdf
Word Pictures: 7 Steps to Creating Word Pictures, from Family Minute, Internet article.  Available here: http://www.familyminute.com/articles/marriage/communication/word-pictures-7-steps-to-creating-word-pictures/#.WFLiZlMrLcs
Smalley, Gary and John Trent, PhD (1988, 1991) The Language of Love.  New York, NY.  Focus on Family Publishing.
Tugend, Alina Why Is Asking for Help So Difficult? The New York Times: Business Day (July 7,2007).  Available here: http://www.nytimes.com/2007/07/07/business/07shortcuts.html
Footnotes
¹Boss, Pauline PhD (2011) Loving Someone Who Has Dementia: How to Find Hope While Coping with Stress and Grief.  San Francisco, CA  Jossey-Bass A Wiley Imprint, page. 76
²2015 AARP report on Caregiving in the United States, page 10.  Available here: http://www.aarp.org/content/dam/aarp/ppi/2015/caregiving-in-the-united-states-2015-report-revised.pdf
³Boss, Pauline PhD (2011) Loving Someone Who Has Dementia: How to Find Hope While Coping with Stress and Grief.  San Francisco, CA  Jossey-Bass A Wiley Imprint pages 74, 75